Looking at the celebrity gossip pages this week, i saw a story regarding singer/actress Jessica Simpson. Gossip columnists posted pictures of Simpson saying that she has gotten "fat". Here's a pic of her portraying Daisy Duke in the Dukes of Hazzard movie.
And here's a current photo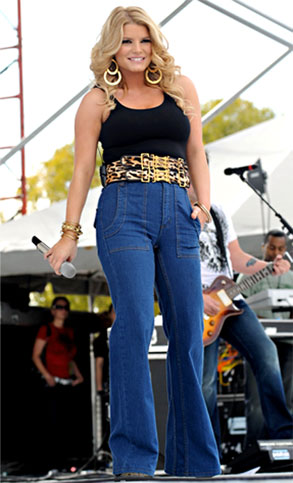 Many celebrities such as Kim Kardashian and Heidi Klum (also known for showing off their body) state that people should leave Jessica alone and stop ridiculing someone for their weight gain.
Here's my question. There is no doubt that a key reason behind Simpson's success (as well as Kardashian and Klum's) happens to be their body image. All of these women use their sexuality to sell items. In essence, part of their "product" or "brand" is their body. Are we as consumers, entitled to speak negatively of someone when that "brand" is not up to the same standard it has been in the past. In other words, because these women make money off their body, can we ridicule them when we think they have "let themselves go." Or, is that a sexist notion. If we commented on the appearance of a woman who was not a sex symbol, would we be considered sexist? The argument goes both ways. Marlon Brando was viewed as a sex symbol but many made fun of his weight gain towards the end of his life. Should anyone be concerned about Simpson's weight?
Also, i've been having trouble associating your post id's to an actual name. Please write your name at the bottom of your posts so i can ensure you get your points.